Description
Curved solid oak legs give this design an elegant look that works well around traditional furniture and antiques. This design fits easily into a corner, but the sculptured look also allows for prominent placement in the room. The wide surface allows the rope to move around (which most cats like.) Available in both light and dark oak finish. Note that enthusiastic cats who play on their scratcher can knock this style over.
A few clients have told us that their cats LOVED an angled surface scratcher and abandoned their other scatchers after they got this one. We have also heard that some elderly cats prefer this type (perhaps because it is easier on their backs?)

Features
- Solid oak ends with a solid cedar core
- Replaceable cork feet that won't scratch your floors
- Replaceable sisal rope wrap.
- Available in Dark and Light Oak hand oiled finishes
Dimensions:
24 inches high, 18 inches deep, 16 inches wide. Scratcher surface (the roped wrapped portion) is 24 inches long and 6 inches wide.
Shipping:
All scratchers are custom made to order: scratchers ship 7 to 14 days after your order is placed.

Customer Images:
Rayna and Rhett, San Diego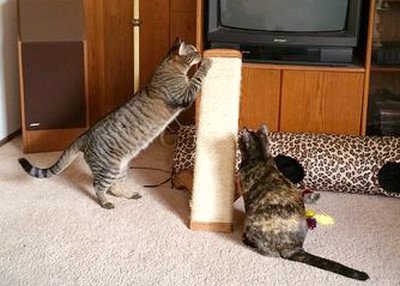 Sara and Oscar, Illinois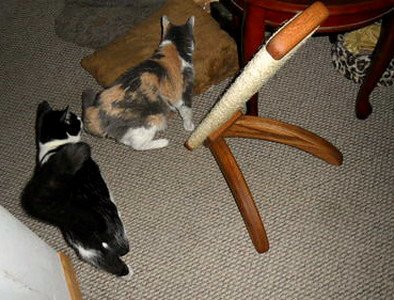 Paul checks out his new scratcher - Maryland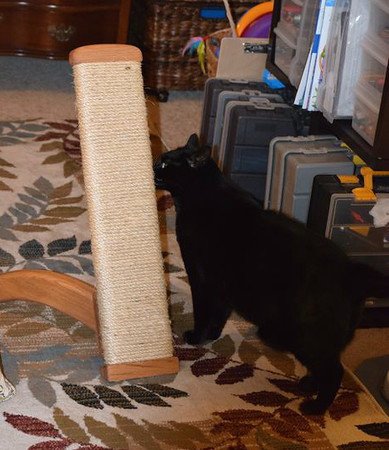 Stop Your Cat from Scratching Walls and Furniture!
What is Different About These Scratchers?