Description
A traditional vertical style that nearly all cats will use. At 27 inches tall, this scratcher allows cats to get a good stretch and the heavy weight allows cats to really pull hard. Note that many vertical scratchers sold in pet stores are only 18 inches tall, barely high enough for a large kitten.

Features
- Solid oak ends with a solid pine core
- Replaceable cork feet that won't scratch your floors
- Replaceable sisal rope wrap.
- Available in Dark and Light Oak hand oiled finishes
Dimensions

27 inches high, 18 inches wide, Scratcher surface (the roped wrapped portion) is 24 inches high
Shipping:
All scratchers are custom made to order: scratchers ship 7 to 14 days after your order is placed.
A heavy duty bolt holds this scratcher together
The tool for assembly stores neatly in the scratcher!

Customer Images:


Simba, NY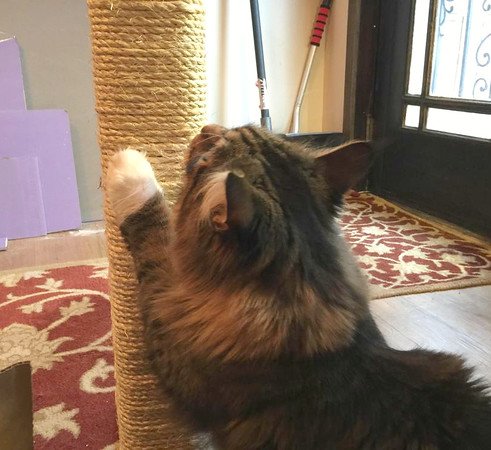 Stop Your Cat from Scratching Walls and Furniture!
What is Different About These Scratchers?