Description
    Great for use where space is limited. Perfect for a stairwell, hallway, vestibule, bathroom or a tight corner. Can even be mounted on a door. Very solid when mounted, allows cats to really "dig in" for stretching and exercise. Also may be the answer for those cats that scratch the wall near the door.

    Comes with hardware for mounting to a sheetrock wall and screws for mounting directly to a wood door or wood trim. Mounting a Wall Scratch is very easy. But if you have no experience mounting things to a wall or are a little nervous about it, we have a 10 minute video that walks you through. All you need is a Philips screwdriver, a pencil, a ruler and maybe a magnet..
Video Showing How to Mount a Wall Scratch
Features
- Solid oak ends with a solid pine core
- Replaceable cork feet that won't scratch your floors
- Replaceable sisal rope wrap.
- Available in Dark and Light Oak hand oiled finishes
- Comes with mounting hardware

Dimensions:

25 inches tall, 2 3/4inches deep, 6 1/4 inches wide. Scratcher surface (the roped wrapped portion) is 24 inches long and 6 inches wide.
Shipping:
All scratchers are custom made to order: scratchers ship 7 to 14 days after your order is placed.
Customer Images:
Chula's scratcher - Maryland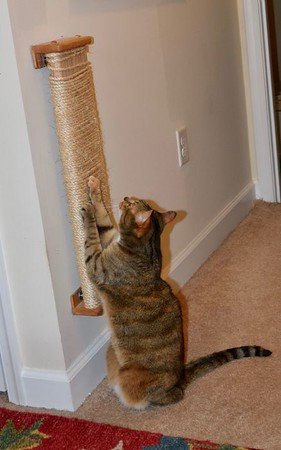 Stop Your Cat from Scratching Walls and Furniture!